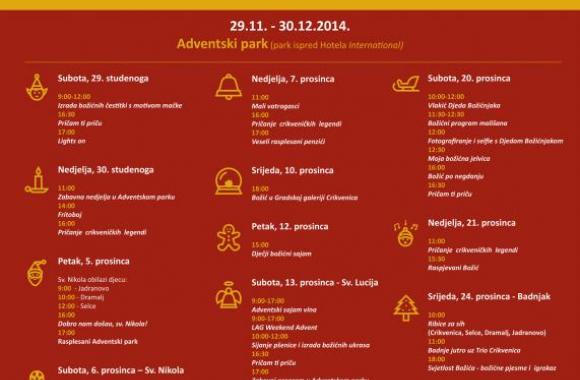 Advent in Crikvenica is starting soon
One of our favorite period of the year is aproaching. Time for relaxing and time for spending with our loved ones, warm days filled with festive atmosphere, laughter and delicious snacks. This year the Crikvenica Riviera will offer  true Advent magic.
The rich program "Advent in Crikvenica 2014." will take place from November 29th to December 30th, 2014 in the park in the center of Crikvenica.The park will shine with a special glow and become the favorite place of big and small visitors looking for fun, pleasant company and the unique experience of the Christmas spirit. There will be something for everyone, from the occasional fair of local products, where visitors will be able to buy original gifts and taste local products, then creative workshops, legend telling and plays for children, festive culinary treats, wine fair, search for gifts from st. Nicholas and lot of singing and dancing and a merry Santa's train.
The magic of Advent will start on Saturday, 29th November, with the making of Christmas cards workshop at the City Gallery in Crikvenica, and will continue in the afternoon with the lighting of Christmas lights in the Advent Park where our youngest will be able to listen to children's stories. The sweet scent of traditional fried dough "frita" will expand thruout the Park on Sunday, when a contest in frying the dough "Fritoboj" will take place. The hard-working members of associations and clubs from Crikvenica will participate in the program . We will introduce the legend of St. Barbara, a cursed girl - snake and fairies rock, and the children will have the unique opportunity to enjoy the unforgettable moment with Santa and whisper to him all their wishes. All the way to the Christmas Eve, December 24th every week the Advent Park will be our host, where we will be cheer, dance and sing along with the inevitable glogg or tea and taste the delicious sausages and other Christmas delicacies. But of course that's not all. A special experience will provide an original New Year's Eve December on 30th, something really unusual and different. The program of this interesting Eve will start at 17 o'clock in the Advent Park, with the cheerful music of the "Belfast Food" band and launching of sky lanterns from the waterfront "Vela Palada". It will be a sight to remember, thousands of lanterns will be launched in the air, and with them the secret wishes for the year ahead.
Experience the most beautiful Advent in Crikvenica! Let yourself be overwhelmed by holiday magic, enjoy the Advent Park with songs, dance and Christmas delicacies!