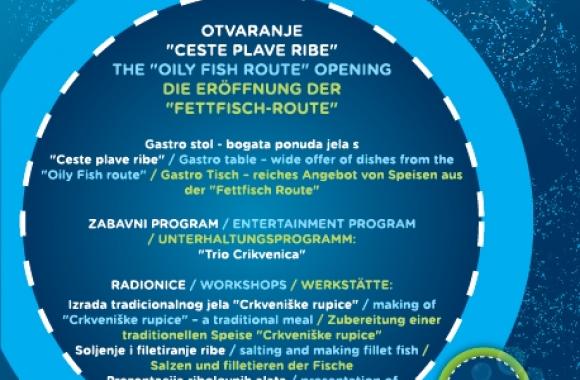 Opening of the "Oily fish route" in Crikvenica
The story of the fishing activity Crikvenice began long ago. Already in the 18th century  fishermen from Crikvenica gained a reputation as skilled professionals, and many of them became world renowned fishermen and fishing equipment inventors.
Crikvenica Tourist Board has developed a project called "Oily fish route", during which restaurants on the Riviera Crikvenica offer delicious, imaginative and various cuisine with oily fish. Why oily fish? Oily Fish was one of the most important ingredients in the traditional diet of our ancestors, who already recognized its exceptional value, nutrition and beneficial effect on health.
The promotion of the "Oily fish route" will be held on Saturday, 8th of June 2013. in the center of Crikvenica. The program begins at 10:30 pm, and visitors can expect interesting workshops (making traditional dishes - "Crkveniške rupice", salting and filleting fish, presentation of fishing gear) and entertainment program with "Trio Crikvenica." On the big gastronomic table  you will be able to find an excellent choice of seafood like "Oily fish route" , tuna "Kotor", homemade macaroni with the adriatic tuna and olives, marinated anchovies with rucola  or famous "Selačke kolubice". Restaurants that have become a part of the "Oily fish route" will formally recive a specially designed stamps "Oily fish route", which will  behighlighted in their facilities.
During the promotional week, until the 15th of June establishments involved in the project "Oily fishroute" will offer a special 20% discount on selected dishes with oily fish, which will surely delight gourmets and those wishing for a healthy and tasty meal. Meals based on oily fish will be part of the permanent offer of all restaurants with the tag "Oily fish route"
Come to Crikvenica, step on the "Oily fish route", designed just for your pleasure and immerse yourself in the rich fishing history of the Crikvenica Riviera. Surrender to the divine tastes and smells of the Mediterranean and enjoy the company of tradition ...
We look forward to seeing you!